Call: 203.786.5536
E-mail: information@cyclone.com
Features

80310 XScale ™ Processor at 600MHz
64-bit CompactPCI Interface (66 or 33 MHz)

PCI Peripheral Controller
3.3V Signaling
Two DMA Channels
Mailboxes and Doorbell Registers

128 to 512 Mbytes SDRAM at 100MHz
64-bit Secondary PCI interface (66 or 33MHz)
Two PMC Module locations on Secondary PCI bus

ATM, Ethernet and Storage Connectivity

8 Mbytes Flash ROM
Console Serial Port
One 32-bit Performance Timer and one 22-bit Global Timer
Breeze Development Environment ™
Board Support Packages for:

Tornado /VxWorks ®
TimeSys Linux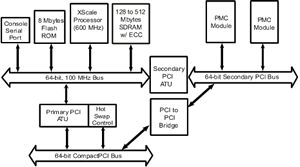 CPCI 711
The CPCI-711 is a high-performance CompactPCI Intelligent I/O Controller that expands system performance in advanced embedded systems such as telecom servers, computer telephony, video networking and other high-speed LAN/WAN applications.
80310 Intel ® XScale ™ Processor
A key element of the CPCI-711 design is the new Intel ® XScale ™ processor which operates at a core processing speed of up to 600 MHz. With low power consumption (5.7 W typical) and integrated high-speed data buses, the 80310 enables the CPCI-711 to be an effective and efficient Intelligent I/O Controller.
Optimized Data Movement Architecture
A key element in the CPCI-711 is Cyclone Microsystems' triple-bus architecture design. As shown in the block diagram, the architecture greatly increases data movement capabilities by allowing both primary and secondary PCI busses to transfer data simultaneously to memory without choking the main memory bus. The triple bus architecture eliminates the data bottlenecks associated with dual bus architectures.
The CPCI-711 optimally balances the new Intel XScale processor with a strong data movement architecture that enables both higher I/O throughput and increased I/O processing power for your embedded applications. With two PMC Module locations for I/O connectivity, the CPCI-711 offers a flexible development and production environment for embedded applications.
Hot Swap
The CPCI-711 is Full Hot Swap compliant with the PICMG 2.1 R2.0 Specification. As a result of the new Hot Swap revision, the CPCI-711 supports Universal Signaling on its 64-bit CompactPCI bus interface enabling 66MHz operation.
Board Support Packages
Cyclone adds value to, Tornado/VxWorks ® , and TimeSys Linux development environments by providing board support packages and technical support that link the operating system with Cyclone's hardware.